Description
PREMIER GLUTAMINE Premier Research Labs
Key amino acid, this 100% natural and effective glutamine is produced from bacteria.
Cells need Living Nutrients with an accurate resonance to be able to operate at their highest level.
Premier Research Labs uses the technology of Cellular quantum resonance to bring you exceptional products that will feed your cells.
Each product is Bio-energetically tested to bring you always the best.
PRL's mission is to produce only nutritional products with the highest quality, guaranteeing the use of the best Ingredients and a flawless Efficiency.
No excipients are used, the products are Pure, guaranteed without artificial coloring, flavors and preservatives.
The glutamine provided by PRL is not comparable with other glutamine present on the market.
PREMIER GLUTAMINE is produced by a bacteria and does not come from a chemically synthetic form produced in laboratories.
Ingredients : L-Glutamine 500mg/capsule (Form Free, derived from bacteria), organic rice protein, vegetable cellulose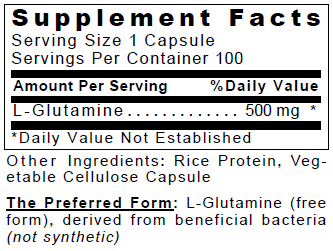 Use : One capsule 3 times a day
Packaging : Bottle of 100 Capsules
Vegan, violite bottle to protect nutrients, vegetarian capsules (in USA there are 2 categories of capsules: those in animal gelatin and vegetarians ones that are in vegetable cellulose and perfectly consumable by VEGAN! ).
Precautions for use : Pregnant or breastfeeding women, or people with serious health problems, should take advice from their doctor before first use. Respect the recommended daily dose. Keep out of reach of children. Doesn't replace a varied and balanced diet.
Note : This product is not intended to diagnose, prevent, treat or cure any disease.