Description
HYDRANOME STIPP – HEALTHY HYDRATION
Hydranome® introduces Stipp® an easy to use water bottle that helps to drink enough water and to drink sugar-free.
The Hydranome Stipp® water bottle has a modern, elegant shape that is fully balanced. The best materials and high quality finish complete the iconic design. The Hydranome Stipp® bottle has a special cap that makes you aware how much water you drink and motivates you to drink enough water.
4 dotts

 a day
The adequate water intake as defined by EFSA is in a simple and easy to use manner built in our bottle Stipp®. The container shows two volume indicators: one for women (400ml) and one for men (500ml). Fill the bottle up to your level.
Turn the dial at the top and start with one filled dot. With every refill you turn the dial. With 4 dots you meet the daily adequate water intake.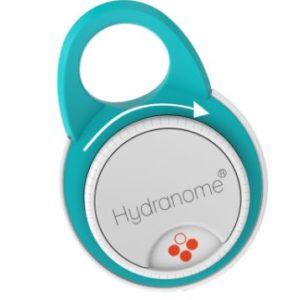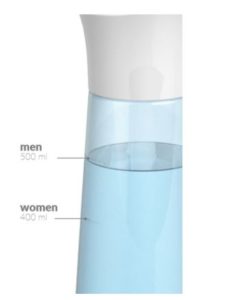 How much water do we need?
The European Food Safety Authority (EFSA) states that the adequate daily water intake for women over 14 years of age is 1.6 liters. For men over 14 years of age this is 2.0 liters.
This adequate volume is under moderate physical activity and moderate environmental conditions. 
Stipp®: APP
You forget to drink water? Start using our App!
The App reminds you to take every 20 minutes some sips of water. This rhythm prevents you from getting thirst. When you are thirsty you are also more likely to grasp a cold, sugar sweetened beverage. You then start to tank excessive sugar and calories.
Sipping water throughout the day is the preferred way to maintain healthy hydration.
Available on Google PLay and App Store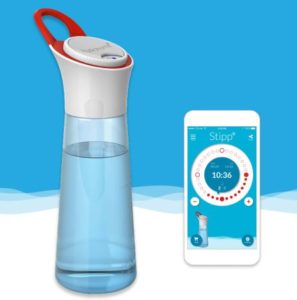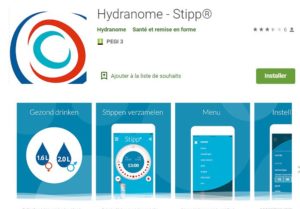 Stipp® is a Dutch Design and proudly produced by European manufacturers.
Stipp® does not smell like plastic and does not give off (plastic) taste. The water container is made of TritanTM, this material has glass-like properties, is non-porous and very smooth. This prevents odors and tastes from getting stuck in the bottle.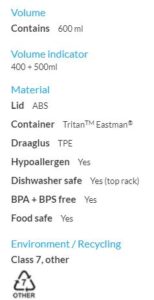 Features:
BPA and BPS free

Does not hold any taste or odors

Does not leak

Dishwasher safe (top drawer)

XXL base: extra stable

600ml: generous content

No plastic taste

Hydration based on EFSA advice

Light weight: 180 grams

Ergonomic grip

Iconic design, registered design